Ayurvedic Massage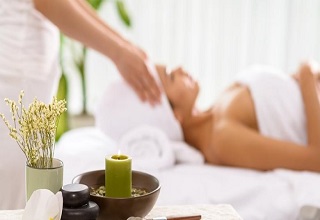 Ayurvedic massage is a pleasant and effective way to preserve health and restore the body, weakened by physical and psychological stress. During the massage, special healing oils and herbs are used. They are selected for each person individually. During massage with special massage techniques, vegetable oil with herbs is rubbed into the skin. Therefore, if you decide to try on yourself, what all the same is an Ayurvedic massage, be prepared for the fact that after the procedure you will literally be soaked in oil.
Ayurvedic Massage Benefits:
acts as a powerful recharger of mind and body
reducing hair fall
recommended for weight loss toning the skin and muscles
reduction in scar tissues and muscle flexibility increases
Immun system is improved and latic acid is removed from fatique musclas
energises
help you to stay young
The massage takes place with exact strokes and movements to stimulate important points on the human body. The style and intensity of the massage depends on the individual's needs for balance and wellbeing at that time. Ayurvedic massage has a very beneficial effect on our hormonal system.